Donna Smiedt at The Family Law Firm of Donna J Smiedt
Please Give me a 5 Star Review.

21 reviews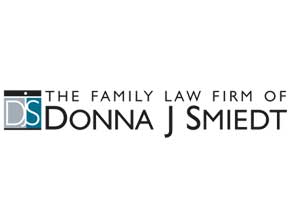 3216 W Arkansas Ln
Arlington, TX 76016
Click Here for Case Evaluation
About
Donna Smiedt has been practicing law in Tarrant County since 1986. During that time, she has dedicated her practice as an attorney to exclusively practicing family law. Donna has been Texas board certified family law attorney since 1991. To be board certified in Texas, an attorney must have a certain amount of experience in their area of practice and also pass an exam. Donna has also won lawyer of the year in Arlington, Texas and has been a Texas Super Lawyer in 2006 and 2004.
Reviews and Testimonials
FIVESTAR REVIEWS & TESTIMONIALS
Heidi

- Apr 26 2019

Donna Smiedt is a phenomenal attorney. I was very lucky to have had her work on a touchy adoption case. I would recommend her to anyone. Her compassion and empathy is unique in the world of law yet feriously tough when she needs to be.

N

- Aug 27 2018

Thank you for making these quicker and calmer!

Jolie Douglas

- Jun 24 2018

Very knowledgeable about the law

Santos

- May 01 2018

Super

Allen

- Apr 26 2018

Thank you!

DC

- Apr 26 2018

I found Donna and her firm very professional and very caring.

JD

- Apr 25 2018

Donna, I cannot thank you enough for the job you did on Wednesday. You rocked it and tore into his a$$ in only a way I wish I could've. Most of all though, thank you for giving my kids their mom back. I went from supervised visitation 4 days a month with $919/mo child support to 50/50 custody and no child support. Bob was right about you and I told him so.

Mark Flanery

- Feb 16 2018

Although the situation was stressful, the Smiedt Law firms professionalism and friendship provided assurance that calmer times were ahead. Thanks for being there.

Jennifer Byrom

- Dec 21 2017

Great and professional.

H

- Dec 18 2017

Wonderful caring team. Highly professional.

Sonia

- Nov 29 2017

Professional, knowledgeable, lawyers. I have great experience and they took good care of their clients. I can't ask for more.

Jerry Johnston

- Sep 24 2017

Great Attorney and great staff. Have used Donna for years and always had great experience. Very much on top of your case.

Sonia

- Sep 23 2017

Love this firm. Knowledgeable, professional lawyers.

Andrew Hirsch

- Sep 20 2017

My journey has been a long one with my divorce and ongoing post-divorce litigation. I've been represented by a couple of different attorneys from Donna's firm and they have displayed nothing less than consummate professionalism. I had a hearing as recent as this morning and walked out of the courtroom elated after achieving our end-game goals. I would recommend her firm to anyone having to experience the misfortune of divorce.

Richard Moncrief

- Sep 19 2017

A very professional and courteous experience with using this firm. Highly recommended

Stacia Pease

- Sep 19 2017

Donna and her team take great pride in their work. They've helped with a over the years with several family law matters. Grateful to have had such an accomplished team working for me.

Thomas Pronesti

- Aug 25 2017

Donna is a featured attorney on Mediation.com. She is a family law expert and we highly recommend her services.
GOOGLE REVIEWS & TESTIMONIALS
Kevin Wallen

Apr 19 2017

Donna and the rest of their staff is awesome! Don't hesitate to give her a call.

Louise Ervin

Jul 03 2016

Donna Smiedts Law Firm makes you feel comfortable when you walk in . Donna and her staff did a great job for us and they are there when we need them. They go out of their way to help you. We would recommend The Law Firm of Donna Smiedt very highly.

keri jarboe smith

Jul 01 2016

Donna represented our family for a parental termination and step parent adoption. Her entire team did a great job over the 2 year process. I thought Donna's strategy and no nonsense approach to be exactly what we needed. Finding a parent who hides can typically be tough but she knew the legal way to navigate around it. At the end, my daughter was adopted by the man who is truly her dad. Seriously, an excellent legal team!
FACEBOOK REVIEWS & TESTIMONIALS
Gary Brooks

Aug 28 2017
Please help us by taking a couple of minutes to tell us about your experience.
Please help us by taking a couple of minutes to tell us about your experience. If you want to be anonymous you can just put in your initials on the "Your name" field.
Rating:
www.fivestarreviewssite.com says:
Thank you for your REVIEW. Your review has been COPIED to the CLIPBOARD and ready to be PASTED on GOOGLE. Please click the button (Go to Google) to COMPLETE your post.
Type your reply on the comment field below and click Submit once done.
Sign In your Fivestar Account
Thank you very much for your input. We strive for 100% customer satisfaction. Please tell us how we can improve our services.
Get A Free Case Evaluation Now!